[quote]Kertha Gosa means - "the place where the king meets with his ministries to discuss questions of justice."
The story of Bhima Swarga is elaborate and all-embracing. Bhima Swarga in Balinese means, "Bhima goes to the abode of the gods." Swarga literally means to any place where the gods happen to reside, Heaven or Hell.
Bhima, the second oldest of the five Pandava brothers, is forced by his mother Kunti with the mission to rescue from Hell the souls of his earthly father Pandu, and his second mother, Madri. After saving Pandu and Madri from Hell, Bhima must secure them for Heaven. Throughout Bhima's journey to Heaven and Hell he is accompanied by his two loyal servants (the clown characters). These made up characters are highly important to the story Bhima Swarga because the ordinary Balinese can relate to the characters in the story Bhima Swarga because the characters represent ordinary Bali.
Bhima's siblings go through hell right along with Bhima to rescue their parents. The siblings observe people being tortured for their sins. The siblings are Arjuna, Nakula, Sahadewa, Yudhishthira, and Bhima. The two clown characters whom accompany Bhima on his journey to Hell are Twalen and Mredah. Twalen wears a black checkered loin cloth and is the helper to Bhima. Twalen translates what is being said by Yudhishthira and Kunti. Mredah always wears red checkered loin cloths and he also helps Bhima along with cracking a joke to lighten the mood. Bhima goes to Hell to rescue his parents and when he arrives he finds his parents are in a huge hot water bath. Bhima tips the bath which his parents were boiling in and they are taken off to Heaven. The Demons did not like Bhima rescuing his parents and allowing them to go to Heaven. Bhima then has to fight off the Demons. Next, the Gods do not like this idea of Bhima taking his parents from Hell to Heaven. Bhima then gets into a fight with the Gods and Bhima dies in Heaven. The high God of all restores Bhima back to life and gives Bhima the drink of immortality. The last scene of Bhima Swarga shows justice, even with punishments of Hell.
The ceiling of Kertha Gosa is painted in a traditional Balinese style that resembles wayang, "shadow figure". Paintings in the wayang style are related closely to shadow theatre art, relating to the Mahabharata and Ramayana stories. Wayang style paintings have been faithfully preserved that it continues today to reflect Bali's Hindu-Javanese heritage in its traditional iconography and content. Iconography was used a lot in Bali's culture. Iconoclasm is used because the Balinese people wanted to represent living things through pictures and shadows; it was prohibited to represent any living entity. [unquote]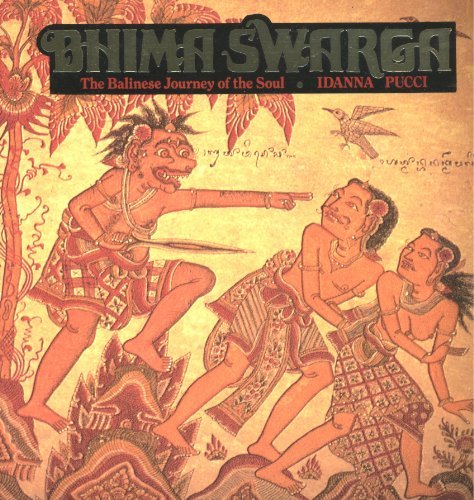 Bhima Swarga: The Balinese Journey of the Soul: Pucci, Idanna
Halus (Delicate) and Kasar (Rough) Characters in a Scene from Bhima Swarga
https://en.wikipedia.org/wiki/Kertha_Gosa_Pavilion
Stutterheim W.F. (1956) An Ancient Javanese Bhima Cult. In: Studies in Indonesian Archaeology. Koninklijk Instituut voor Taal-, Land- en Volkenkunde. Springer, Dordrecht
https://link.springer.com/chapter/10.1007%2F978-94-017-5987-8_4
Keris Relief (Blacksmith Relief)
[quote]The scene in the bas relief depicts Bhima as the Blacksmith in the left forging the Metal - a Kris ; he extends its blade into the fire. A tier of three shelves above his left shoulder illustrate (1) the tools of his trade (bottom shelf: a file, hammer, etc.) (2) the weaponry he produces (middle shelf: a knife, etc.) and (3) the ceremonial objects he produces (top shelf: finials) , Ganesha in the center dances upon a platform while holding a dog , and Arjuna in the right operating the tube blower to pump air into the furnace pump that extend , along the bottom of the relief, to the forge in the left hand panel. The relief is highly celebrated, and has been exhibited abroad.
Keris Relief (Blacksmith Relief)
The wall of the main monument has a relief portraying two men forging a weapon in a Smithy with a dancing figure of Ganesha, the most important Tantric deity, having a human body and the head of an elephant. In Hindu-Java Mythology, the Smith is thought to possess not only the skill to alter metals, but also the key to spiritual transcendence. Smiths drew their powers to forge a kris from the god of fire; and a Smithy is considered as a Shrine. Hindu-Javanese Kingship was sometimes legitimated and empowered by the possession of a kris.
The elephant head figure with a crown in the Smithy relief depicts Ganesha, the God who removes obstacles in Hinduism. The Ganesha figure, however, differs in some small respects with other usual depictions. Instead of sitting, the Ganesha figure in Candi Sukuh's relief is shown dancing and it has distinctive features including the EXPOSED GENITALIA, the demonic physiognomy, the strangely awkward dancing posture, the rosary bones on its neck and holding a small animal, probably a dog.
The Ganesha relief in Candi Sukuh has a similarity with the Tantric ritual found in the history of Buddhism in Tibet written by Taranatha.[5] The Tantric ritual is associated with several figures, one of whom is described as the "King of Dogs" (Sanskrit: Kukuraja), who taught his disciples by day, and by night performed Ganacakra in a burial ground or charnel ground.
The forging of iron, and in particular of the iron knife-blades known as Kris, or Keris, had a Spiritual Significance in Indonesia that is comparable to the special importance of sword-making in Japan. The Indonesian iron-worker was allocated to a special caste, that stood outside the typical Hindu caste system and did not necessarily yield, in precedence, even to Brahmins.[unquote]
Bhima.

Nusa-Dua Bali Indonesia
Bhima.
Wayang Kulit Klasik.
Bhima. Candi Sukuh. Indonesia.

Bhima Relief In Wayang Style - A Carving Depicting A Womb with Mythological Creatures. "

The subject of this relief is Bhima, a hero of the Mahabharata, posed opposite a God on pedestal within a horseshoe-shaped arch. The sides of the arch are formed by the exaggerated tails of two birds, whose heads and bodies appear below the relief. A kala-like ogre is placed at the top, between two more ogre faces at the tips of the birds' tails. The central figures are sculpted in Wayang Puppet style, and indeed resemble their leather-puppet counterparts in posture, costume, and sideways presentation. A triad of indistinct figures appears below, in the narrow neck of the arch; the upper figure of the triad supports a Shrine or pavilion on his upraised hand, while the bottom two figures appear to Pass something between them.

"
Bhima Overcomes A Foe "
These reliefs show Bhima rushing into battle, with bow and spear. He is preceded by a smaller standard-bearer, whose flag is emblazoned with Bhima's image; appropriately, since Bhima was of course the general of his troops. The hero's curling hair is distinctive, and appears on both images of him.
In this relief, mighty
Bhima
(identified by his curled hair, as on the previous page) lifts a foe off the ground by the sheer strength of his arm. Behind the hero is one of his followers, a soldier equipped with shield and spear. An inscription above Bhima's head tells the story.
"
Some other reliefs depicting story of Mahabharata - Bhima
Some more Reliefs depicting Life of Bima
Bhima (Bima), second of the Pandava (Pandawa) brothers, approx. 1960. Indonesia; West Java. Wood, cloth, and mixed media.
From the Mimi and John Herbert Collection
, F2000.86.157.
"
Bhima (
Bima
) is the second of the Pandava (
Pandawa
) brothers in the
Mahabharata
, a great Hindu epic. He is the divine son of the wind god Vayu (
Bayu
), and is known for his military skill, physical power, bravery, and voracious appetite. Although Bhima has a tendency to demonstrate a lack of selfcontrol, his intentions are always honest and noble. While in exile because his brother Yudhishthira (
Yudistira
) has lost their kingdom in a gambling bet, Bhima marries the princess giant Hidhimba (
Arimbi
), with whom he has a son, who is named Ghatotkacha (
Gatotkaca
). Having descended from the wind god, Bhima has the ability to fly, as does his half-brother Hanuman (
Hanoman
) and his son Ghatotkacha.
In one story from the
Mahabharata
, the fierce warrior Bhima defeats a dragon, which then transforms itself into a poisonous serpent. Bhima wraps the serpent around his neck, declaring that it may bite him should he ever tell a lie.
"
Indonesia Bali Bhima Monument Kuta, Indonesia.
Stone Guradian Figure of Bhima, Majapahit Style, Indonesia. 15thC
Bhima. Sculpture. Ancol.Jakarta. Indonesia
"
In the Mahābhārata, Bhima (Sanskrit: भीम, IAST: Bhīma, Tibetan: མི་འཇིགས་སྟན; Wylie: mi 'jigs stan) is one of the central characters of Mahabharata and the second of the Pandava brothers. Bhima was distinguished from his brothers by his great stature and strength.
His legendary prowess is celebrated in the epic: "Of all the wielders of the mace, there is none equal to Bhima; and there is none also who is so skillful a rider of elephants. In fight, they say, he yields not even to Arjuna; and as to might of arms, he is equal to ten thousand elephants. Well-trained and active, he who hath again been rendered bitterly hostile, would in anger consume the Dhritarashtra in no time. Always wrathful, and strong of arms, he is not capable of being subdued in battle by even Indra himself. Bhima a Maharati, capable of fighting 60,000 warriors at once, so mighty was he that when he were to roar in anger he would put to shame the proudest lion and frighten the most fearless warrior."
en.wikipedia.org/wiki/Bhima
Bhima Shakti sculpture in Bali, Indonesia (L) and a statue of Hanuman (R). Pic courtesy: Thinkstock Photos
Mumbai: Bhima, the strongest of all the Pandavas, who along with his brothers was responsible for uprooting the existence of the Kauravas, was born to Kunti, the first wife of King Pandu.
But he was born out of a boon to Kunti after she had invoked Vayu Devata. He wasn't Pandu's biological son.
Here's the legend behind Bhima's birth
King Pandu had unknowingly shot Rishi Kindama (in disguise as a male deer) with an arrow while the latter was engaged in lovemaking with a female deer. The Rishi had great inhibitions about making love in the presence of humans and to quench his sexual needs, he would transform into a deer with his special powers. Mistaking Rishi Kindama to be a deer, King Pandu shot him thereby injuring him seriously. Angered after being injured, Rishi Kindama curses the king by telling him that he would meet death if he ever tried to make love with a woman.
Saddened by the curse, Pandu, who wishes to have children, reminded his first wife Kunti to use the boons granted to her by Rishi Durvasa. Thus, Yudishthira was born to Kunti after she was blessed by Yama and then Vayu Devata blessed her with Bhima.
Hanuman was born to Anjana after she was blessed by Lord Shiva. The Lord had asked Vayu Devata to bring a portion of the divine pudding that was being consumed by Dasharatha's queens in Ayodhaya, for Anjana. After consuming the pudding, Anjana was blessed by Vayu and granted her wish to have a child. Since he was responsible for bringing the pudding, he was rightfully the father of Anjana's child.
Since both Hanuman and Bhima were born after being blessed by Vayu, they were brothers.
Many of us are not familiar with Hidimbi, whose selflessness contributed a lot to the victory of the Pandavas against the Kauravas.
We often tend to remember only those characters that play lead characters thereby forgetting the significant roles played by the lesser known or popular ones. We all know Draupadi as the wife of the Pandava brothers, daughter of King Panchal and the soul-sister of Lord Krishna. But many of us are not familiar with Hidimbi, whose selflessness contributed a lot to the victory of the Pandavas against the Kauravas.
Hidimbi was the sister of Hidimba, a rakshas.
How, when and where did she meet Bhima?
During their exile, the Pandavas dwelled in forests. One night, when the rest of the brothers were asleep, Bhima remained awake to keep a watch. On smelling the presence of humans around, Hidimba asked his sister Hidimbi to lure Bhima and convince him to get eaten by them. Hidimbi met Bhima in disguise of a beautiful woman and instantly fell in love with him. And hence she confessed to him about her real identity.
Bhima, known for his strength and valour, refused to pardon Hidimba. The two indulged in a fight that resulted in Bhima's victory. With Hidimba's death, Hidimbi was orphaned. She pleaded to Bhima to marry her because she had fallen in love with him. After initially declining her proposal, Bhima married her after being asked by his mother Kunti but on one condition. He told her that he would not be able to take her to along with him after his exile period ends. She agreed to it gladly. Within a year, Hidimbi bore a son for Bhima and named him Ghatotkacha.
Ghatotkacha was raised by his mother and was later a part of the battle of Kurukshetra where he stood by his father against the Kauravas.
Her selfless contribution
Hidimbi could have been the queen of Hastinapur by virtue of her marriage to Bhima. But she chose to live in the forests and raise her son Ghatotkacha single-handedly. It was no petty sacrifice. Despite being a married woman, she lived without her husband because of the condition put forth by him. However, according to another legend Hidimbi chose to live alone to do penance.
Hidimba Devi Temple, North-east View
Hidimba temple. Manali. Kullu district. Himachal Pradesh
Hidimba Devi Temple (built 1553 onward)
Hidimba Devi temple stands in the midst of a sacred cedar forest near the town of Dunghri at the verdant foot of the Himalaya mountains. The sanctuary is built over an enormous rock that juts out of the ground, worshipped as a manefestation of Durga, the "Hill Mother" or goddess of the earth. The temple was constructed in 1553 by Maharaja Bahadur Singh, who made a promise to the Hidimba deity of the Mahabharata epic.
The temple is rather unusual and is architecturally similar only to the temple of Tripura Sundari in Naggar (also in the Kulu valley). The Hidimba Devi temple is 24 meters tall and consists of three square roofs clad in timber tiles, surmounted by a cone-shaped fourth roof that is covered in brass. The interior of the temple is occupied by the large rock and contains no usuable space except for the ground floor. Curiously, a rope dangles from the ridge that is said to have been used to hang victims by the hand, who were then swung—bleeding and bruised—over the large rock in the presence of the goddess.
The base of the temple is made of whitewashed mud-covered stonework. The main doorway includes an elaborately carved wooden entrance that is believed to be over 400 years old. These and other carvings center on the goddess Durgha who is a mainstay of pan-Indian stories. However, the goddess herself is represented only once in a three inch tall brass image.
During the
Pandava
's exile, when they visited
Manali
;
Bhima
, one of the five Pandavas, killed Hidimb. Thereafter, Hidimba married
Bhima
and gave birth to their son
Ghatotkacha
.
The Hidimba Devi Temple has intricately carved wooden doors and a 24 meters tall wooden "shikhar" or tower above the sanctuary.
[2]
The tower consists of three square roofs covered with timber tiles and a fourth brass cone-shaped roof at the top. The earth goddess
Durga
forms the theme of the main door carvings.
[3]
The temple base is made out of whitewashed, mud-covered stonework. An enormous rock occupies the inside of the temple, only a 7.5 cm (3 inch) tall brass image representing goddess Hidimba Devi. A rope hangs down in front of the rock,and according to a legend,in bygone days religious zealots would tie the hands of "sinners" by the rope and then swing them against the rock.
[4]
About seventy metres away from the temple, there is a shrine dedicated to Goddess Hidimba's son, Ghatotkacha, who was born after she married Bhima...
The Indian epic Mahabharata narrates that the Pāndavas stayed in Himachal during their exile. In Manali, the strongest person there, named Hidimba and brother of Hidimdi, attacked them, and in the ensuing fight Bhima, strongest amongst the Pandavas, killed him. Bhima and Hidimba's sister, Hidimbi, then got married and had a son, Ghatotkacha, (who later proved to be a great warrior in the war against Kauravas). When Bhima and his brothers returned from exile, Hidimbi did not accompany him, but stayed back and did tapasyā (a combination of meditation, prayer, and penance) so as to eventually attain the status of a goddess.
https://en.wikipedia.org/wiki/Hidimba_Devi_Temple
A mughal depiction of Ghatotkacha (top) getting killed by Karna (top left).
Ghatotkacha , is a character in the Mahābhārata epic and the son of Bhima and the giantess Hidimbi (sister of Hidimba). His maternal parentage made him half-Rakshasa (giant), and gave him many magical powers.
Bhimsen and Ghatotkacha
http://openlibrary.org/books/OL23365037M/Mahabharata.
Ghatotkacha

(

Sanskrit

:

घटोत्कच

Ghaṭōtkaca

"Bald Pot") is an important character in the

Mahabharata

.

His name comes from his head, which was hairless (

utkaca

) and shaped like a

ghatam.

Ghatotkacha was the son of the Pandava

Bhima

and the Rakshasi

Hidimbi

. His maternal parentage made him half-

Rakshasa

and gave him many magical powers such as the ability to fly, to increase or decrease his size and to become invisible. He was an important fighter from the

Pandava

side in the

Kurukshetra war

.
Ghatotkacha was born to
Hidimbi
and the
Pandava
Bhima
. When traveling the countryside with his brothers and
mother
as a
brahmin
, having escaped the
lakshagraha
, Bhima saved Hidimbi from her wicked brother
Hidimba
. Soon after Ghatotkacha was born, Bhima had to leave his family, as he still had duties to complete at
Hastinapura
. Ghatotkacha grew up under the care of
Hidimbi
. One day he received a pearl which he later gave to his cousin
Abhimanyu
. Like his father Ghatotkacha primarily fought with the
mace
. Lord Krishna gave him a boon that no one in the world would be able to match his sorcery skills (except Krishna himself).
His wife was
Ahilawati
and his sons were
Barbarika
and
Meghvarna
.
In the Mahābhārata, Ghatotkacha was summoned by Bhima to fight on the Pandava side in the Kurukshetra battle. Invoking his magical powers, he wrought great havoc in the Kaurava army. In particular, after the death of Jayadratha on the fourteenth day of battle, when the battle continued on past sunset, his powers were at their most effective.
At this point in the battle, the Kaurava leader Duryodhana appealed to Karna, to kill Ghatotkacha as the whole Kaurava army was coming close to annihilation due to Ghatotkacha's attacks. Karna possessed a divine weapon called the Vasavi Shakti, granted by the god Indra. Only able to use it once, Karna had been saving it for his battle with his rival, Arjuna. Unable to refuse Duryodhana, Karna discharged the weapon against Ghatotkacha, killing him. It is said that when Ghatotkacha realized that he was going to die, that he assumed a gigantic size. When the huge body fell, it crushed one akshauhini of the Kaurava army.[5] After his death Krishna was glad Karna no longer had Vasavi Sakthi to use against Arjuna.
https://en.wikipedia.org/wiki/Ghatotkacha
Lord Hanuman was born in Jharkhand's most forested area 20 ms away from Gumla district in Aanjandham.